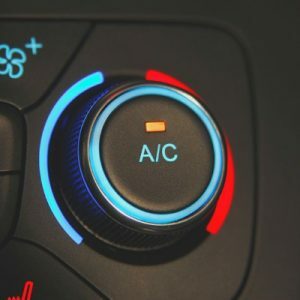 Vehicle air conditioning is a system within your car that allows you to cool the inside air of the vehicle in warm weather and helps remove condensation in cooler / wet weather such as winter. Air Conditioning (A/C) work by moving a substance called refrigerant through a high pressure/low-pressure closed-loop system. The car's air conditioning system consists of a variety of components that work together and produce cold, hot, or dehumidified air.  
Air Conditioning as the warmer months approach 
As the warmer months approach in New Zealand more and more drivers will start using their air conditioning again. As it gets warmer and you start using your Air Conditioning (A/C) again you may realise it isn't working 100%. With our Summers only getting hotter, it is important to make sure your vehicles A/C is working. There is nothing worse than driving on a scorching hot day and having your A/C not work. For your own benefit and comfort, it is best to get your A/C inspected and fixed if you're having issues. It is best to get your car serviced (if it's overdue) to top up all the fluids, oils and to ensure the car and Air Conditioning (AC) is running smoothly for those long summer road trips.
Common issues with air conditioning 
1. Malfunctioning condenser 
The condenser in your car's air conditioning system is supposed to re-cool hot refrigerant once it has been compressed. It uses the airflow that comes through the front of your vehicle while driving.
– The Condenser is Blocked
If your vehicle's condenser is blocked by dust, dirt, and other contaminants, then the car will be unable to cool the refrigerant and your car's system will continue to run with overheated refrigerant. This will result in the Air Conditioning (A/C) unit only blowing out hot air. 
The condenser is found at the front of most cars, so if there is any blockage it should be visible. If the blockage is the issue, just clear out the condenser and the cool air should return to your air conditioner. 
– The Condenser is Broken
The other issue can be a broken condenser caused by a puncture from road debris going through the grill of your vehicle and damaging parts. If there are visible punctures, the only way to fix the issue is by replacing the condenser.
2. Malfunctioning fans 
Cooled air is pushed into the car's interior through a fan and blower motor. If the fan or motor fails, no air will come through. In this case, the heater will not work either.
When fans aren't properly functioning, it can cause your car to start emitting only hot air. Cracks in the fan can be caused by debris on the road and replacement is the only true way to fix this problem. Other common issues with cooling fans include blown fuses and other electrical issues. These issues will have to be addressed by a professional.
3. Leaking 
A damaged seal or hose can cause your car's air conditioning system to leak. This will prevent air in your vehicle from being cooled. In this case your air conditioning system will require a leak test, fixing, and then re-pressurizing with a new Air Conditioning (AC) refrigerant before it will run again properly.
4. The Compressor Has Gone Bad
The compressor keeps the Air Conditioning (A/C) circulating at all times. Without the compressor, the refrigerant can't move through the Air Conditioning (AC) unit and it will never get any cool air. The compressor can fail due to long periods of time without running. Lack of use can shock the system when it is finally used again after sitting dormant.
Use your air conditioning regularly
One of the best ways to keep your air conditioning system in good condition is by using it. Regular use will ensure that the pumps, hoses and valves in your air conditioning system will remain lubricated, stopping components from hardening.
We suggest that you let your air conditioning run for at least a few minutes every week, even in winter with the temperature turned up so the compressor doesn't fail and that it lengthens the A/C's lifespan.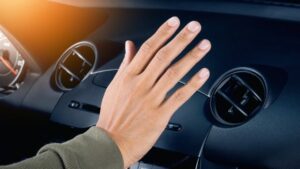 After using your AC for extended periods of time, you should run your car's defroster/demister for a few minutes. This will dry out the evaporator core by forcing vapour upwards. A healthy evaporator core will improve the efficiency of your air conditioner.
Get your air conditioning system serviced
We suggest that you get your air conditioning system serviced once every two years. Ideally, you should get the system serviced in spring to make sure your air conditioning system is still working correctly after a cold winter, and ready for Summer.
A trained mechanic will be able to examine the different parts of your Air Conditioning (A/C) system, letting you know if anything is in need of maintenance. Be sure to check that the service you are receiving includes an air conditioning check.
Air Conditioning (AC) Diagnostics and Services in Hamilton
Don't let yourself suffer through the uncomfortable heat with no air conditioning, get it sorted before it is too hot. Get yourself ready for Summer and get any Air Conditioning (A/C) issues sorted. For any air conditioning services, we will contact a technician who will be able to organise & diagnose air conditioning issues you are having and then organise to fix the issue for you.