---
Does your Vehicle have Steering, Suspension or Wheel Bearing Damage?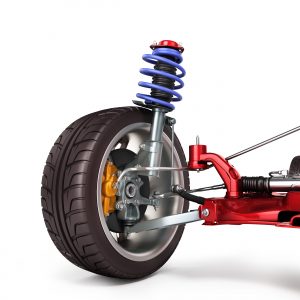 There are different signs of a worn wheel bearing depending on how bad the issue is. For example, a Popping, Clicking or Snap type noise could be heard indicating there is a damaged or worn wheel hub assembly or wheel bearing. This noise could also be related to a damaged CV joint, however, CV joint only normally make that noise on slow speed sharp corners.
There is a range of other noises and vibrations that can be heard from failed or failing Steering, Suspension & Wheel Bearings parts. These include wheel vibration or wobble, humming, rumbling or growling, knocking or clunking, shudder, shimmy or vibration with a constant speed, abnormal pulling to one side when under braking.
Common signs of steering and suspension issues:
Difficulty steering: If you find it harder to steer your vehicle, it could indicate a problem with your power steering system, steering rack, or steering column.
Uneven tyre wear: If you notice that your tires are wearing unevenly, it could indicate that your suspension is out of alignment or that your shock absorbers or struts need to be replaced.
Vibrations and shaking while driving: If you feel vibrations in your steering wheel or seat while driving, it could indicate worn out suspension components or an unbalanced wheel.
Vehicle swaying side to side: If your vehicle sways while driving, it could be due to worn out shocks or struts.
Pulling to one side: If your vehicle pulls to one side while driving, it could indicate an alignment problem, worn out suspension components, or an issue with your steering system.
Rattling noises from underneath the vehicle: If you hear clunking, rattling, or knocking sounds while driving, it could be due to worn out suspension components, loose parts, or damaged steering components.
Steering, Wheel Bearing, and Suspension Services & Replacement in Hamilton.
Issues relating to your steering and suspension system can affect the stability and safety of your vehicle. They can also lead to further issues when not attended to promptly. For this reason, it's important you find a good mechanic who can reliably and quickly fix these issues.
Grimmer Motors experienced, trustworthy, and qualified mechanics can quickly diagnose and fix all issues relating to your car's steering, suspension system or wheel bearings. Book an appointment today for reliable service and quality advice regarding your car.
Grimmer Motors is conveniently located in Fairfield, and has been providing quality vehicle service to Hamilton since the company was established in 1934. You can trust our fully qualified mechanics to safely and efficiently service your car, advising you before further work is conducted.
Live/work in any of the following areas? Grimmer Motors could be extra convenient for you.
Fairfield
Fairview Downs
Enderly
Claudelands
Peachgrove
Hamilton East
Chartwell
Chedworth
Central Hamilton
Forest Lake, Beerescourt
Frankton
Melville
Waikato