Looking for an honest and trustworthy mechanic in Hamilton?
Then you have come to the right place!
Grimmer Motors is your trusted local mechanic for repairs and servicing for all makes and models since 1934.
Here is what sets Grimmer Motors apart…
We are local: Grimmer Motors is a locally owned mechanic that has been around for 85 years! We strive to provide Hamilton locals with a friendly, stress-free approach to vehicle repairs and servicing.
Industry leaders: Grimmer Motors is a member of the Auto Super Shoppes network and the MTA. Our mechanics are well trained and have lots of experience in the industry.
Price: For specific service pricing for your vehicle, please send us a message through the Contact Us form
Eco-friendly: We take our environmental responsibilities seriously by making sure we dispose of waste correctly, and we service hybrid and electric vehicles. We have also donated over 2000 Native Trees to Trees for Survival to help reduce climate change.
Quality: At Grimmer Motors we only use high-quality products and materials for all services and repairs.
Large range of repairs and services: We offer everything from vehicle light repair and replacement to in-depth vehicle diagnostics and everything in between.
Great service: At Grimmer Motors we strive to provide great customer service, we love to get to know our customers. Some of whom have been coming back for decades!

How can we help you?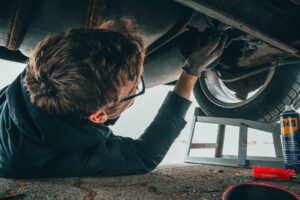 At Grimmer Motors we provide a large range of services, including:
WOF examination and repairs (check out our special offer)
Vehicle light repair and replacement
Diagnosing and fixing any engine problems
Replacing spark plugs
New batteries
Brake repairs
Starter Motor & Alternator Repair
Radiator & Cooling System Repair
Cambelts / Timing Belts
Head Gasket Repair
Exhaust & Muffler Repair
and much, much more
To top it off we provide a range of extras to make your experience even better…
If you drop your car off before 8.30am and leave it with us till at least 2.30pm we can give you a FREE basic wash and vacuum, a FREE tyres shine and dash polish and a FREE electronic test (depending on your car's technology).
We provide an air-conditioned waiting room with FREE WIFI for you to wait while we carry out your servicing and repairs. We may even be able to provide you with a courtesy car.
Trusted mechanics in Hamilton
Are you looking for a trustworthy and honest mechanic in Hamilton? Then you are in good hands. At Grimmer Motors our team of skilled and experienced mechanics will be able to diagnose any problems you are having with your vehicle and present you with a detailed repair plan. For top-quality vehicle servicing and repairs in Hamilton, contact Grimmer Motors today.