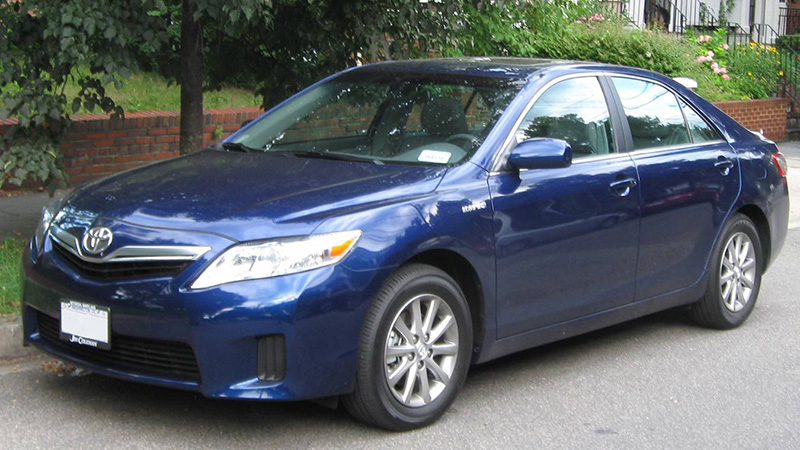 Toyota Camry Hybrid Problems Hamilton
What are the problems?
Toyota Camry Hybrid cars have a reputation for being solid and dependable. However like any vehicle, they have
quirks and issues owners may have to deal with
: these can range from Bluetooth echoes during hands-free phone calls to problems with the transmission, (causing vehicles to decelerate or gain speed with no input from the driver), brake issues and of course hybrid battery problems as the age and mileage increases. It is important to be aware of any problems your car may be developing and to make sure you take notice of hybrid system
warning lights
.
Issues by model/year
Toyota Camry Hybrid 2018 – 2021
2021: Toyota Camry GX, SX, ZR: The latest models of this car have received good reviews. Some owners have reported echoes on the Bluetooth hands-free phone system.
2020: Toyota Camry Hybrid SX, XLE, SE: Few problems reported
2018-2019: Toyota Camry SX, LE, XLE: Transmission problems have been reported by some drivers. The transmission transfers power from the car's engine to the driveshaft: if it is not functioning properly it can cause the car to slip in and out of gear, or lose or gain speed rapidly. It can also cause delays when trying to change gears/cause gears to change with no input from the driver and can cause the vehicle to shake upon acceleration. 
Troubleshooting: After checking all the updates have been made to their sound system, owners of a car with Bluetooth echoes can take it to their dealer, to see if the system needs to be replaced.
Owners experiencing transmission problems should
get their Powertrain Control Module inspected and repaired. Alternatives are buying a used transmission, rebuilding the transmission or replacing the entire transmission. Find general information about engine control modules here.
Toyota Camry Hybrid 2012 – 2017
2017, 2016, 2015: Toyota Camry Hybrid, LE, SE, XSE: Some transmission problems have been reported by drivers. 
2013 – 2014: Toyota Camry Hybrid HL Sedan: Faulty power brake boosters have been an issue overseas in Camrys of this year. Vehicles may show an illuminated brake warning light, and drivers may hear brake pedal chatter when stepping on the brake pedal. 
2012: Toyota Camry Hybrid H Sedan, Toyota Camry Hybrid HL Sedan: Some owners have reported brakes not working unless they are pressed down hard.
2012: We are starting to see the hybrid batteries on some high mileage vehicles begin to have issues, causing the dash warning lights to come on. 
Troubleshooting:  Drivers of Toyota Camry Hybrids who have noticed their brakes are not working should take their car to a mechanic straight away. Read more about brake repairs at Grimmer Motors here.
In the case of suspected transmission problems, the Powertrain Control Module should be inspected by a qualified professional to check what is causing the problem. 
Toyota Camry Hybrid 2007-2011
2011: Toyota Camry Hybrid, LE, SE, XLE: Transmission problems may cause delays when accelerating; drivers have also reported brake problems, with a lot of pressure needed to stop the car.
2010: Toyota Camry Hybrid LE, SE, XLE: Shortly after this car was released Toyota recalled more than 7000 2010 Camry Hybrids for a brake defect. The car's long power steering hose can rub up against a tube for the left rear brake, causing the brake to wear through: leading to a leak of brake fluid.
2009: Toyota Camry Hybrid, LE, SE, XLE: Some drivers have reported excessive oil consumption, which can lead to smoke from the tailpipe, and weaker acceleration power.
2008 and 2007 models: Toyota Camry Hybrid, LE, SE, XLE: A clogged brake-fluid reservoir on older models has meant drivers need to press harder on the brake pedals for the pedal to work. Faulty ABS brake actuators or brake pedal stroke sensors also mean drivers need to press down harder on the pedal to stop the car. Brake warning lights, however, will still work. Excessive oil consumption has also been reported: read more here. 
2008 to 2011 Toyota Camry Hybrid models are starting to have problems with the hybrid batteries more commonly now. Parts are available and they can be repaired or replaced. 
Troubleshooting: Owners of older models (2007 to 2011) with brake issues may possibly be covered by an extended warranty, introduced in 2014 to address issues stemming from a faulty
ABS brake actuator/brake pedal stroke sensor: contacting your dealership might be advisable if you are affected by these problems. To fix the brake reservoir problem, in the past dealers have installed a redesigned reservoir into the car.
When it comes to excess oil consumption, it is important to regularly check the oil level in your Camry yourself (rather than relying on the warning light to come on). The problem may be caused by faulty oil piston assembly: it is possible to replace oil pistons and rings in the car, but this means disassembling the engine. In some cases rebuilding or replacing the engine is the only course of action due to the amount of damage caused to the engine itself. If the car is experiencing transmission problems, its Powertrain Control Module should be inspected and may need to be replaced.
Toyota Camry Hybrid repairs in Hamilton
If you would like your Toyota Camry Hybrid checked over or have the hybrid battery repaired or replaced, plus if you would like any advice about getting your Hybrid repaired, contact Grimmer Motors today.  
Phone: 07 855 2037
Email: office@grimmermotors.co.nz
Address: 998 Heaphy Terrace, Fairfield, Hamilton