What is a Pre-Purchase Inspection?
A pre-purchase inspection is an independent inspection of the condition and safety of a car. The pre-purchase inspection is done on a used vehicle that someone is looking at buying. It is carried out by an independent mechanic, and this service involves a comprehensive inspection of the vehicle's quality, safety, and performance.
Many people get a pre-purchase inspection before purchasing a car so that they know what they are buying. The inspection can pick up for any potential issues, reasons that the vehicle could fail a Warrant of Fitness or any underlying mechanical issues that could escalate in the future. 
Why is it important to get a Pre-Purchase Inspection?
Buying a vehicle, especially a second-hand vehicle can be very stressful, and it can be hard to trust whether the seller is being 100% truthful. But with a third party inspecting the vehicle, you can trust there to be no bias, and all the findings to be reported honestly. 
Too many people have bought vehicles without an inspection, this has resulted in expensive repairs a few months down the track that the buyer wasn't expecting. The Pre Purchase Inspection (PPI) saves you money in the long run, and it is a good indication whether the car your about to buy is road safe or if it is just a money pit. If items are found that need to be repaired, then you can often negotiate with the seller to reduce the price of the vehicle, due to the required repairs. 
A Pre-Purchase Inspection often covers:
Engine

Battery/ alternator (hybrid batteries included)

Oils/ fluids

Cambelt/ timing chain

Exterior (any damage, lights, windscreens)

Suspensions

Tyres / Rims

Brakes 

Interior (stereo, heater, seats, seatbelts, lights, and windows)

Chassis

Transmission

Steering
(main areas the inspection covers, for more detail, see our pre-purchase check report)
Benefits of a Pre-Purchase Inspection:
Many potential issues with a used car are not immediately obvious, especially when just looking at it or taking it for a small test drive. By getting a mechanic to conduct a pre-purchase inspection, you'll be able to discover issues that may affect your decision about whether to buy the car.
Buying a car with hidden defects could end up costing you thousands of dollars in repairs. Be very wary of this if the car is no longer covered by the manufacturer's warranty. To save yourself money and get the car inspected. You can then also negotiate the price of the car with the seller. For example, if a pre purchase inspection showed that the car needs $500 to $1000 worth of work due to charging / alternator system problems, then you can discuss this with the current owner and negotiate a fair price to reflect the cost of those repairs. If you buy the car without a pre purchase check, then you will be the one paying the $500 to $1000 for the charging / alternator system problems yourself!
Purchasing a used car is risky. A pre-purchase vehicle inspection can give you the peace of mind that you are buying a quality vehicle for a fair price, and that you aren't being ripped off.
Buying from a different location
If you've found a vehicle you are interested in, but you can't check it out yourself because it's in a different town. Then arranging an inspection can help you make an informed purchasing decision before making the effort to see the vehicle in person, you could be wasting your time.
If you're selling a used car, a pre-purchase vehicle inspection demonstrates to buyers that your car is in excellent condition. People are willing to pay more for a car that they know is mechanically sound, with reports to prove this.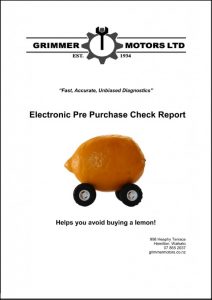 Pre-Purchase Inspection in Hamilton
So be proactive and smart when it comes to buying a car and get a pre-purchase inspection. For a fast, accurate, and unbiased inspection come to Grimmer Motors. Grimmer Motors are qualified, experienced, and honest mechanics that you can trust to perform an accurate pre-purchase inspection. When getting an inspection at Grimmer Motors you will leave with a full report that documents the condition of the vehicle at the time of the inspection.