Grimmer Motors offers reliable, honest Pre-Purchase vehicle inspections for your car in Hamilton.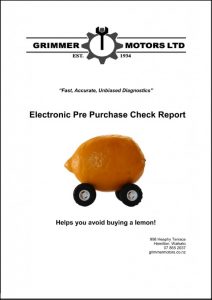 Purchasing a new vehicle can be stressful, especially if you are unsure about the vehicle's overall health. At Grimmer Motors our highly skilled, qualified and experienced mechanics can perform an advanced, accurate pre-purchase check on any car for you. We will give you expert advice, helping you decide if the vehicle is worth the price you are paying.
We use the latest state of the art scan tools and diagnostic equipment to ensure you get the most comprehensive pre-purchase check report possible. Our partner company Rennacs Limited, supplies the diagnostic tools used by several well-known NZ companies including Automobile Association (NZAA) and Vehicle Inspections New Zealand (VINZ).
When you have a pre-purchase inspection / check with us, you get a well-presented printout of all the results we have found from the vehicle, that you can use to help with your confidence and purchasing "peace of mind", or to help negotiate a fair price with the seller. This report covers over 70 different vehicle area. You can view an example of this printout below.
View an example of our pre-purchase inspection report
Please note: This report is subject to changes and improvements over time, so may differ slightly at your pre-purchase inspection time.
What issues can a pre-purchase inspection detect?
There are several issues that can be detected in a pre-purchase inspection that you may miss upon a basic visual inspection of a vehicle. These include:
Problems with the braking system, such as rotors, brake pads or calipers.
Problems with the tyres such as punctures or bulges
A battery, alternator, or ignition system that is in need of replacement
Poor engine operation, which may suggest that the engine won't last much longer
A neglected servicing history where scheduled maintenance has not been performed on time
Issues that may lead to a failed Warrant of Fitness upon the next inspection
With this information, you can make an informed decision about whether your vehicle is worth it, or use the information to strike a better deal with the car's seller.
Why get a Pre-Purchase Inspection?
There are several reasons why you should get a pre-purchase inspection for your vehicle:
Know the vehicle you're buying
First and foremost, a pre-purchase inspection can help you make an informed decision about the vehicle you are considering buying. It can alert you to any potential problems or issues with the vehicle that may not be immediately apparent, such as hidden damage or mechanical issues. This can help you avoid buying a lemon and save you a lot of time and money in the long run.
Negotiate with the seller
Additionally, a pre-purchase inspection can give you leverage in negotiations with the seller by providing you with a detailed report of the vehicle's condition. For example, the battery may need replacement and you can negotiate with the seller so that the cost of a new battery is deducted from the total.
Have confidence in the car you're buying
A common worry is that the engine, brakes, or other components will fail shortly after buying a car, leaving you in a potentially complicated financial position. A pre-purchase inspection can give you peace of mind and confidence in your purchase, knowing that you have a professional evaluation of the vehicle's condition.
Buy your next car confidently, with the help of qualified, experienced, and honest mechanics. Get your pre-purchase inspection with one of the most trusted names in Hamilton for over 80 years,  Grimmer Motors. Book today!