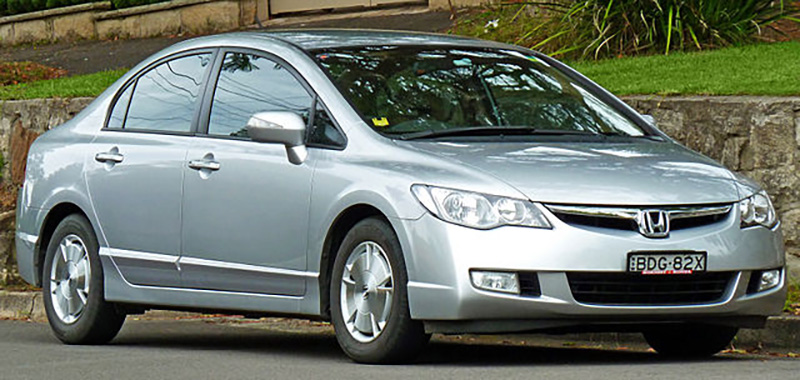 Honda Civic Hybrid Problems Hamilton NZ
What are the problems? 
The Honda Civic Hybrid was produced between 2001 and 2015, a greener version of the well-loved and ubiquitous Honda Civic. In its early years the hybrid was plagued with transmission problems, which were ironed out somewhat in later years. Unfortunately from 2006 onwards, unreliable batteries were a recurring problem with this hybrid. Read on to learn about more potential issues that might crop up.
Honda Civic Hybrid 2001 – 2005
The earliest models of the Civic Hybrid drew negative attention due to problems with their continuously variable transmission (CVT). If something's wrong with your car's transmission, it may accelerate or decelerate more slowly or quickly than expected, or slip in and out of gear.
In extreme cases the car might speed up with little input from the driver at all, or completely slow down or stop while driving, making a faulty transmission potentially dangerous.
Transmission problems in Honda cars in the late 1990s/early 2000s are well-known and not confined to hybrids. Read on for more information about this widespread problem with Honda vehicles
Troubleshooting: Transmission issues can be expensive to fix, so the best solution is to try to catch any issues early. Check your transmission fluid for leaks (pink or reddish fluid that may leak under your car), and contact your garage right away if you notice any early warning signs:
Delays with car deceleration/acceleration
Irritating grinding noise/a humming, or whining noise
Slipping out of gear
Shakes and vibrations
A burning smell
Honda Civic Hybrid 2006- 2010
The 2006 version of this car attracted hundreds of complaints for hybrid system problems: including instances where the engine did not turn off even though the car had stopped. Battery failure and problems with vehicle power dropping off were a recurring issue affecting 2006 -2010 models.
Hybrid battery lifespan is variable depending on how much use your car has, and cars do not always last the full eight years: however Honda Civic Hybrids from these years notoriously have a shorter-than expected battery life. For more information about this problem take a look at this article. Owners of the 2009 model also complained of tyres wearing out earlier than expected.
Troubleshooting: Grimmer Motors provides tyre services as well as advice on when to get your tyres checked.
If you suspect your hybrid is losing power, you can take it into the garage to be looked at. Signs your battery may be in trouble include:
Vehicle charge rapidly changing
Warning lights appearing
Loss of power as you accelerate
Poor fuel efficiency
Grimmer Motors both reconditions and replaces hybrid batteries, and also runs diagnostic tests on hybrid battery systems.
Honda Civic Hybrid 2010- 2015
In these years there were isolated transmission problems and further issues with the engine not turning off when the car stopped.
The years 2014 to 2015 saw very few complaints, but there have been occasional issues with batteries dying unexpectedly/the car not starting.
Troubleshooting; If you have a model from these years, battery health is always something to be aware of, particularly now, as your car's hybrid battery may well be reaching the end of its lifespan.
One way to prolong your hybrid battery and to support the overall health of your car is to make sure your vehicle is regularly serviced.
Honda Civic Hybrid Repairs Hamilton
If you have a Honda Civic Hybrid and would like to get the car, or the hybrid battery, checked out or repaired don't hesitate to get in touch with the experienced team at Grimmer Motors today.
Phone: 07 855 2037
Address: 998 Heaphy Terrace, Fairfield, Hamilton