About Android head units:
Essentially, an android head unit is an android phone or tablet, built into your car to replace the old radio/stereo system. These allow you to do most of the things you can do with a normal radio system plus much more!
For example Google's android head unit called the 'Android Auto' can do most of the normal things you can do with an android tablet and normal radio system or head unit. A new head unit can bring your driving experience into modern times. It allows for seamless integration between your phone and your car. It will often replace your old CD/tape player, or exist as a unit external to your existing stero setup.
Benefits of installing an android head unit: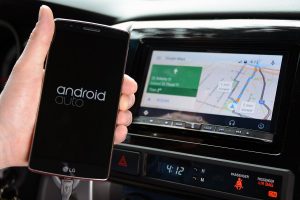 Data: Google Auto generally Bluetooth's to your Android smartphone and uses your Android smart phone data for all of the below options.
Music: Android Auto allows you to use either their music system (Google play music) or Spotify. This means you can listen to whatever music you like, wherever you are if you have Spotify Premium. There are other music options available.
Maps: Most or all android head units should come with Google maps or a GPS map system. This means you can use your android head unit to get directions with ease.
Google's Speech Recognition: Android Auto head units allow you to say 'Ok Google' and ask Google whatever you like. This includes making phone call, playing music, adding reminders, getting directions and much more.
Calls and Messaging: You can connect your phone to your android auto. This will allow you to make a hand free phone call and send text messages. Phone calls will be heard through your cars speaker system.
Email, Facebook, Instagram, WhatsApp, Messenger etc: Most android head units will allow you to get any of these apps and more, allowing you to contact friends and family on your preferred platform.
FM Radio: You can get the FM radio app on most head units meaning you can use your radio as per usual.
You can also buy android head units, specifically designed for your car that plug into cars databus (CAN bus). Further benefits of these can include air conditioning/heater control , steering wheel controls for stereo/cruise control plus other car controls, as well as a more professional look and better overall functionality in your car.
Learn more about the best Android head sets!
Need a normal radio/stereo head unit replacement instead? Find out more here
---
Android head unit installation service in Hamilton:
If you'd like an Android or Apple Carplay head unit installed in your vehicle, we can organise an installation service for you from our expert provider. You can then take advantage of improved functionality in your vehicle such as maps, bluetooth and app access.
We also offer a variety of other aftermarket installations, including:
Speaker and subwoofer installation
Apple CarPlay installation
Parking sensor installation
Reverse camera installation
Dashcam installation
For android head unit installation, and replacements in Hamilton, contact Grimmer Motors today!
Please Note – we don't generally stock or supply just "parts only" for this service. We are a general automotive repair workshop. If you are able to bring your vehicle to us, we can diagnose the problem, find and fit the necessary parts, or organise the appropriate service for you.