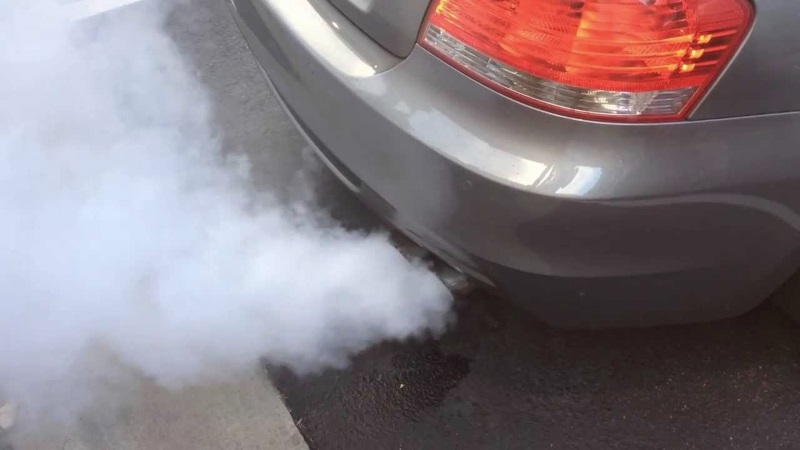 Smoky Car Exhaust – Inspection & Repair in Hamilton
About smoky exhaust emissions:
The exhaust acts as an emissions outlet for your vehicle, with CO2 and other greenhouse gases constantly being released as you drive. There are many different reasons smoke can come out of your exhaust. Fortunately, the colour and consistency of the smoke can help you diagnose the problem.
Black smoke coming from exhaust:
Black smoke is often associated with a rich fuel mixture. This means that the engine has incomplete combustion, which may be caused by too much fuel entering the combustion chamber. This can be caused by leaking fuel injectors, ECM / sensor malfunctions, Positive Crankcase Ventilation (PCV) valve malfunctions, Air Flow Meter issues or several other engine problems.
Learn more about rich fuel mixtures >
Blue/grey smoke coming from exhaust:
Blue/grey smoke often suggests that oil has found its way into the engine combustion chamber. This can be caused by leaking valve seals or worn/damaged piston rings.
White smoke coming from exhaust:
It is normal for your car's exhaust to produce thin white smoke. However, thick white smoke can mean that your vehicle has a serious engine problem. Thick white smoke can be caused an overheating engine which has damaged the piston rings or a blown head gasket.
If your vehicle is producing thick, white smoke, you should refrain from driving it and see a mechanic as soon as possible.
Please Note  Your vehicle will fail a Warrant of Fitness (Wof) if there is excessive smoke of any colour coming from the exhaust pipe. This test is normally performed with a warm engine, revved to 2000 rpm for around 20 seconds.
---
Smoky exhaust and engine repair in Hamilton
Is smoke coming from your exhaust? If so, we can help you.
Our team of mechanics are able to quickly diagnose exhaust-related issues. We can then provide you with a detailed explanation of what is wrong with your vehicle. If you choose to go forward with repairing the problem, we can provide excellent, high-quality repairs that you can rely on.
For exhaust diagnostics and repairs in Hamilton, contact Grimmer Motors today.
Phone: 07 855 2037
Address: 998 Heaphy Terrace, Fairfield, Hamilton