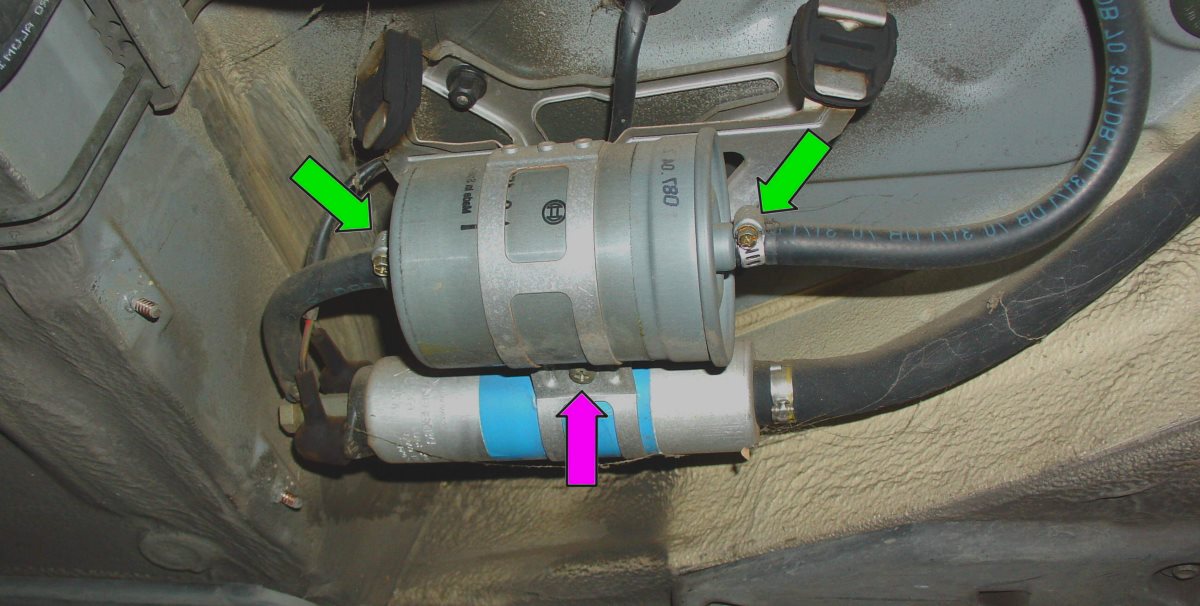 Replacing the Fuel Filter
Fuel filter facts:
For low fuel pressure systems in older cars fuel filters are often made of plastic and see through like the one in the picture to the right. For high pressure fuel systems they can have metal casing to help withstand the increase fuel pressure.
Fuel filters serve one primary purpose of trapping dirt and contaminants found in petrol and diesel from entering the vehicles fuel system and causing blockages and damage. Over time the particles of dirt, rust and other contaminants build up inside the fuel filter and may restrict the flow of fuel or block the fuel filter completely.
This is why it is highly recommended that you have your fuel filter replaced on a regular basis.
Frequency of fuel filter change?
If the fuel filter is located in the fuel tank then it is time consuming and difficult to access, so it is recommended to replace the in fuel tank fuel filter about every 100,000 km.
For a fuel filter that is "inline" or outside the fuel tank and easy to access, then it is recommended to replace it around every 50,000 km.
It often depends on the cleanliness and quality of the fuel you are getting. For example, if you are getting your fuel from farm Diesel or Petrol tanks then it might be better to replace the fuel filter more regularly on a shorter interval.
Damaged fuel filter Symptoms:
Misfiring – Your vehicle may misfire when it is under strain, especially when going up hills. Symptoms of a misfire include the car stuttering and noise coming from the exhaust.
Check engine light – When a fuel filter becomes clogged, it can prevent fuel from reaching the engine. This can create what's called a lean air/fuel ratio (too much air and not enough fuel). When one of your engine's sensors detects this, the check engine light will illuminate on your dashboard.
Difficulty starting your car – A dirty fuel filter may restrict fuel flow upon ignition. This can lead to difficulty starting your car. As the filter becomes dirtier, the problem will usually become worse.
Reduced engine power – When fuel is unable to get to your engine, it will underperform. This can lead to reduced acceleration or stalling.
Replacing the Fuel Filter in Hamilton
Does your car in need of a new fuel filter? If so at Grimmer Motors, our team of quality, skilled mechanics can remove your dirty old fuel filter and replace it with a new, clean one. This will allow for reduced strain on the fuel pump, improved engine performance and peace of mind motoring.
To get a new fuel filter installed in Hamilton, contact Grimmer Motors today!
Phone: 07 855 2037
Address: 998 Heaphy Terrace, Fairfield, Hamilton