What is the dome light bulb?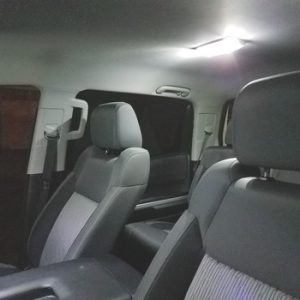 The interior centre dome light bulb is often referred to as the interior light or center light. It is the small light located inside your car, between the front and back seats. The interior centre dome light comes in handy when you need to find something in your car at night. In many cars, it can also be set to turn on when car doors are opened.
The interior centre dome light consists of three main components; a small bulb a switch and a plastic cover. Over time, the bulb can fail, the plastic cover can crack or become damaged, the switch can stop working correctly or the fuse can blow. This will mean that you will need to get your car's interior centre dome light diagnosed and the correct parts replaced.
---
Causes of the dome light not working:
Blown fuse – Your car's interior lighting has a fuse in its circuit which protects the wires from damage. If the fuse blows, power will not be able to reach the light and it will not turn on.
Learn more about replacing fuses >
Blown bulb – The bulb can eventually blow, resulting in the light not turning on until the bulb is replaced.
Bad wiring – Sometimes, the wiring that connects the light to its power source can become damaged. This often occurs due to incorrect installation of a new light.
Plastic casing has come loose – Sometimes, the plastic casing surrounding the bulb can come loose. This can expose the fragile bulb to damage.
Door switches faulty – if your car door switches become faulty they may prevent the correct operation of your  interior centre dome light.  For example, if your interior centre dome light switch is set to turn the light on when any car door is opened, then if a door switch is faulty the light may not turn on when that door is opened.
Even worse is that sometimes the car door switch can cause your interior centre dome light to stay on constantly with the car doors shut, causing your car battery to go flat, often overnight.
About incorrect interior centre dome light installation:
It is important to note that replacing the dome light incorrectly can cause more damage. Without the right tools, you risk damaging the bulb and wiring. You also run the risk of ripping the ceiling cloth, resulting in obvious cosmetic damage which can be very frustrating and expensive to repair.
For these reasons above, we recommend that unless you know what you are doing, you take your car to a mechanic to get the dome light replaced.
New Interior Centre Dome Light Installation and Repair in Hamilton
Is your car in need of a new interior centre dome light or interior centre dome light diagnostics? If so, we can help!
At Grimmer Motors, we can service, repair and replace your car's interior dome light. This will allow for you to have improved vision of your car's interior in the dark.
Additionally, we offer repairs and replacements for headlights, turn signal lights and all other forms of vehicle lighting.
For new car dome lights and repairs in Hamilton, contact Grimmer Motors today!