Hybrid & Electric Vehicle Servicing in Hamilton
What is a hybrid service?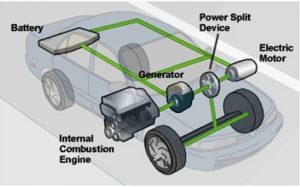 Servicing a hybrid vehicle requires a slightly different approach to servicing traditional petrol and diesel powered vehicles. This is due to the high-voltage batteries that work alongside the engine to power the vehicle. Hybrid vehicles also have more of a variety of parts than gasoline or diesel powered vehicles. This means that mechanics have to take extra care when examining the vehicle.
Learn how hybrid vehicles work differently to standard petrol/diesel vehicles >
When should you get your hybrid vehicle serviced?
We recommend that you service your hybrid vehicle at least once a year. This will allow for the smooth operation of various components in your vehicle. 
Many customers get their vehicle serviced at the same time as their WOF. This saves the hassle of bringing your car into the mechanics twice. 
Grimmer Motors offers servicing & repair for Hybrids and Electric Vehicles
At Grimmer Motors, we provide leading service in Hamilton for all electric and hybrid vehicles. We can perform general car servicing as well as advanced diagnostic tests. The specialised hybrid services we offer include:
Hybrid engine oil change and filter
Hybrid transmission oil change / flush and filter
Testing and repairing the Hybrid High Voltage Battery
Turning of the Hybrid Triangle on the dash
Diagnosing and repairing hybrid engine surges and rough running

Examining High Voltage (HV) battery evenness using advanced hybrid diagnostic tools.

Examining and cleaning High Voltage (HV) battery cooling vents.

Making sure the High Voltage (HV) battery fans are working.

Electronically bleeding the hybrid regenerative braking system.

Replacing the hybrid inverter cooling system fluid.
Many electric vehicle or hybrid owners face the problem of not being able to find a mechanic that will correctly service your vehicle. Grimmer Motors offers an answer to this problem by providing high-quality, experienced hybrid servicing with the latest diagnostic tools. 
Bring your electric or hybrid vehicle into Grimmer Motors today to receive fast, high-quality service tailored to your car.
Phone: 07 855 2037
Email: office@grimmermotors.co.nz
Address: 998 Heaphy Terrace, Fairfield, Hamilton