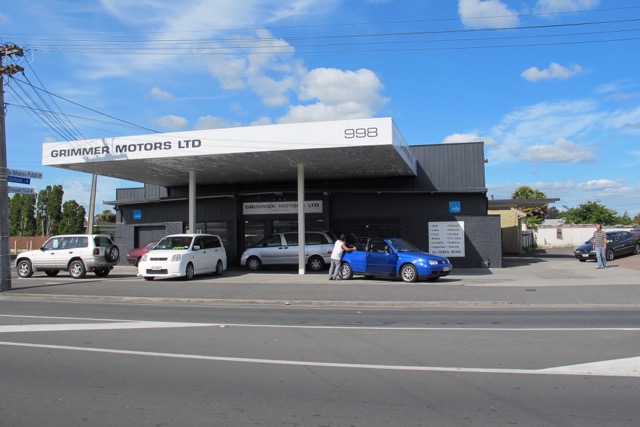 Why Choose Grimmer Motors?
Picking a Mechanic – What mistakes do people make?
There are several common mistakes people make when selecting a mechanic to work on their car. The best course of action is to make an informed decision based on the experiences of others. Read more about the mistakes people have made below.
Visiting a garage with a bad reputation.
A key mistake that many customers make is going to a repair shop without researching the company and reading customer feedback.
Customers will often pick the repair shop closest to them rather than researching what is the best option for their vehicle. Reading reviews is an effective way to identify companies that participate in questionable practices or stand out from the rest with their quality customer service. Besides, don't you think you and your car deserve the best?
At Grimmer Motors, we have provided thousands of customers with reliable vehicle servicing. We have a 98% customer satisfaction rate, meaning that your car is in good hands with us. You can read our 60+ positive Google reviews here.
Choosing the garage with the lowest prices.
The number one mistake customers make when choosing a mechanic is basing their decision on cost. Many workshops offer lower quotes only to "find" additional issues with your vehicle, charging you significantly more.
Other companies may offer incredibly low prices, but use the cheapest parts and put minimal effort into actually repairing your vehicle. This means that you could find your vehicle in need of additional repairs sooner rather than later.
Falling for scare tactics.
Many mechanics will use scare tactics as a way to make money off their customers, claiming that tiny problems will make the car unsafe. This will put the customer in a difficult position where they will often end up spending money they don't have.
At Grimmer Motors, we care about your safety and will inform you if a problem in your car is a genuine threat. However, we will never over-exaggerate problems in an attempt to make money off you. We provide our customers with 100% honest feedback about their vehicles.
Favouring a rushed repair over a quality repair.
Many other workshops will pride themselves on being able to repair your vehicle in a minimal amount of time. This will attract customers who are looking for convenience over quality. These customers may end up facing a massive inconvenience and cost a few months later, with the vehicle malfunctioning due to a rushed, low-effort repair.
At Grimmer Motors, we will never rush a repair job that requires delicacy or attention to detail. If we think your job shouldn't be rushed, we will tell you, keeping you informed. Our paramount concern is you and your family's safety, while at the same time delivering you value for money.
Choosing a workshop that focuses on temporary solutions rather than reliable solutions.
Many workshops will only do what needs to be done, without considering the long-term health of vehicles. A good example of this is cambelt replacement. Many workshops will simply replace the cambelt without any consideration for the water pump and other surrounding components. When the water pump fails, the driver will have to have their vehicle disassembled a second time, resulting in huge labour costs.
At Grimmer Motors, we pride ourselves on providing reasonable pricing, meaning you truly get what you pay for.
Grimmer Motors aims to provide long-lasting repairs that keep the car running well into the future. When we are servicing one part of your vehicle, we may ask if you would like another specific part replaced as a preventative maintenance measure. We can assure you that it is in your absolute best interest to have these parts replaced, as it will save you from expensive labour costs in the future.
Phone: 07 855 2037
Email: office@grimmermotors.co.nz
Address: 998 Heaphy Terrace, Fairfield, Hamilton