What is the wiper blade control switch?
A wiper blade switch is a control switch near your steering wheel that adjusts the speed of the wiper blades and controls wiper cleaning fluids and several other components. Cleaning your windshield is obviously very important in snow, fog and different type of rain conditions such as light or heavy driving rain.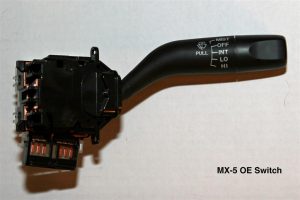 The wiper switch can be located on either the turn signal indicator or a separate indicator close to the steering wheel. On the switch, there are multiple wiper speeds and a switch for activating the water squirters or water jets for cleaning the windscreen. Normally the wiper switch is very durable but if excess force has been applied to the switch, or any liquid have been spilt onto the wiper switch it can be damaged and start not working correctly. Also if its cover has been removed and the wiring and wiper switch components exposed the wiper switch could take in dust and other debris which could wear it out faster than normal. If you start to see any of the symptoms below make sure to contact your local mechanic so they diagnose and replace it fast. Please note that if your wiper switch is not working correctly, that you will fail a Warrant of Fitness (WOF).
Find out more about your windscreen wipers here.
Symptoms of the broken wiper blade switch
Turn signals not working – On many cars the indicators are connected on the same switch as the wiper control switch. Because both of these components function through the same device if you find a problem with the turn signal the wiper switch could be broken or vice versa.
Windscreen wipers won't turn on or off – If your windscreen wipers won't turn on and stay unresponsive after a few tries this could be the result of the wiper control switch internal failure. This could also be a result of a broken Wiper motor or a badly damaged or jammed wiper arm. With so many parts of the system, the best idea is to take this to an experienced mechanic who can correctly diagnose the problem and repair what has been damaged.
Windscreen wipers don't change speed or settings – One of the main jobs for a wiper switch is to control the speed and interval time for the windscreen wiper for different weather conditions. If you select a setting on your wiper switch for a certain interval or speed and the windscreen wipers don't operate at that speed or move at all this could indicate a problem with the wiper control switch. For example, most wiper control switches have a low, medium and high-speed wiper setting. They also have a delayed or intermittent wiper speed setting where the delayed wiper speed can be adjusted manually on the wiper control switch.
---
Having problems with your Wiper Switch?
Are your windscreen wiper blades not working correctly? If so at Grimmer Motors we can help. Our talented team of mechanics can diagnose the wiper related problem and repair your wiper system. Working wiper blades are an important safety feature on your car so let our team do the hard work so you can stay safe.
For all your wiper blade and wiper switch needs in Hamilton contact Grimmer Motors today!