Roof racks are a great addition to your car if you want to add more storage space. When traveling you will have the peace of mind that you have everything with you to ensure you have a great trip.
You have lots of options when deciding on which roof rack is right for you. We'll discuss that later in the post, but let's start by exploring the benefits of having a roof rack.
Benefits Of Roof Racks
There are many great benefits from adding a roof rack to your vehicle, including:
Roof racks are a great way to be able to carry bulky items or to fasten objects like bicycles to your roof when you are on a road trip exploring the outdoors.
Roof racks free up space in your car so you can carry more cargo, people, or your furry friends.
Roof racks help improve safety as they allow you to more evenly distribute weight around your vehicle when driving with lots of cargo.
Most roof racks are removable, so you can easily take them off your vehicle when you don't need to use them. This makes them a very versatile option if you only need to carry extra cargo infrequently.
Which Roof Rack Should I Buy?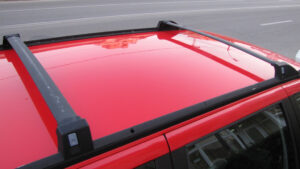 Roof racks can either be permanently attached to your car or you have the option of installing a removable one. There are plenty of quality roof rack manufacturers that you can choose from including, Prorack, Thule, Whispbar, Yakima, and Rhino-rack. Most specialist auto parts companies will have these brands and others in stock.
When choosing a roof rack you have a few different styles available to choose from, such as a simple bar rack, a specialty bike rack, or an encapsulated roof box.
The specific type you choose really comes down to what your purpose is for the roof rack. A simple bar rack is properly sufficient if you just want to transport cargo that isn't very heavy and is flat, a roof box is smaller but keeps your cargo safer from the elements, and a specialty bike rack is obviously great if you want to transport your bike around.
When choosing a roof rack always make sure that it:
Made of quality materials and is constructed to a high standard.
Meets safety standards and regulations.
Is fit for your purpose.
The colour and style of the roof rack suit your vehicle.
If you can find a roof rack that meets those criteria, you'll have found the right roof rack for you. The next step will be to attach it properly to your vehicle so you can start using it. To attach your roof rack, you have a couple of options. You can attach it yourself or you can contact a professional who will be able to make sure that it is safely attached and that it meets Warrant of Fitness standards.
Car Roof Racks Installed in Hamilton
The experienced and friendly team at Grimmer Motors can help with supplying and installing a new roof rack or inspecting and then repairing an existing roof rack so it is safe and roadworthy.
Book your car in for a service with us today and our experienced team will take care of you.