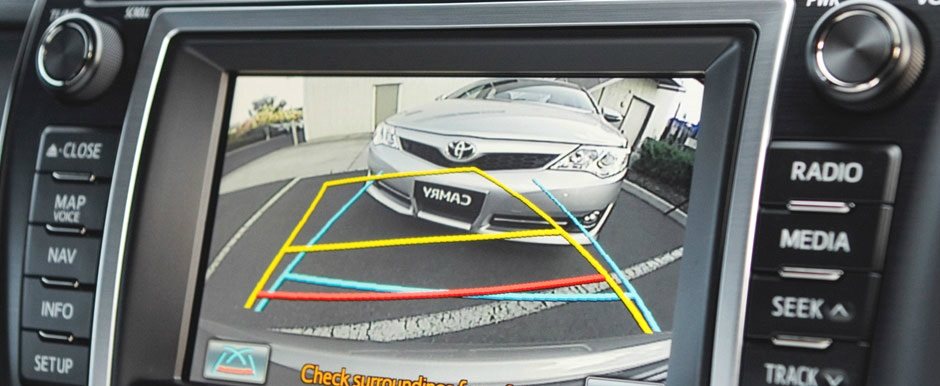 Car Reversing Camera Installation in Hamilton
About reversing cameras:
Many modern cars come equipped with a reversing camera (also known as a backup camera). A reversing camera is a helpful safety feature which allows you to see directly behind your vehicle when it is put in reverse. The benefits of a reversing camera include:
Being able to accurately judge distance from nearby objects, reducing the risk of a crash.
Simplifying parallel parking
Allowing you to notice if a person or animal is directly behind your car while you are reversing (increased safety).
Some head units come equipped with reversing cameras. When installing the head unit, an extra connection is required to notify the head unit when the car is put in reverse. Other reversing cameras are sold in standalone kits, with a screen that can be mounted to your dash or rear vision mirror.
More about how reverse cameras work >
Causes of the reversing camera not working:
Blown fuse – Some reverse cameras are powered by their own fuses. If this fuse is blown, no electricity will be able to reach the reverse camera and it won't work.
Car fuse repairs and diagnostics in Hamilton >
Faulty wiring – Damage to the reverse camera's wiring can prevent it from working. This can also happen due to incorrect installation of the reversing camera.
Car Reversing Camera Installation in Hamilton
Are you looking for a reversing camera replacement or installation? If so, we can help!
At Grimmer Motors, our dedicated and talented team of mechanics can install or replace a reversing camera in your vehicle. This will improve your car's and other peoples safety while you are reversing. We offer the following services:
Installing reversing cameras in vehicles.
Replacing reversing camera/head unit systems.
Installing aftermarket reversing cameras and parking sensors.
For reverse camera installation in Hamilton, contact Grimmer Motors today!
Please Note – we don't generally stock or supply just "parts only" for this service. We are a general automotive repair workshop. If you are able to bring your vehicle to us, we can diagnose the problem, find and fit the necessary parts, or organise the appropriate service for you.
Phone: 07 855 2037
Address: 998 Heaphy Terrace, Fairfield, Hamilton