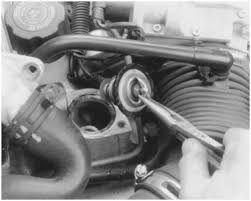 Car Engine Thermostat – Cooling System Repairs in Hamilton
What does the thermostat do?
The cooling system works by monitoring engine temperatures and circulating coolant through the engine accordingly. Not enough coolant will result in higher engine temperatures and possible damage to engine components. Too much coolant will limit the engine's temperature, resulting in a loss of power and bad engine performance. But how does your car control the levels of coolant flowing around your engine? This is where the thermostat comes in.
The thermostat is a vital part of your cooling system, which opens and closes to let increase or restrict this flow of coolant. This allows for optimum engine temperatures, which result in great performance and little risk of overheating.

Learn more about how the cooling system works
When to replace the thermostat in your car?
Over time, the thermostat can become stuck open or shut. If the thermostat is stuck shut, no coolant will enter the engine and it will overheat. If it is stuck open, too much coolant will enter the engine, affecting its performance.
A faulty engine thermostat can cause significant engine damage very quickly, so for most cars, it is a good idea to replace the thermostat when the cambelt is replaced or at least every 100,000 km.
Symptoms of a stuck thermostat
Overheating engine – If you notice that your car's engine temperature is higher than normal, but the coolant levels are normal, the thermostat may be the culprit. If the thermostat is stuck closed, the engine will be starved of coolant and overheat.
Low engine temperature – If the thermostat becomes stuck open, your engine's temperature will remain at a lower level than normal, or it may take a long amount of time to warm up (using more fuel and creating more harmful green house gas emissions).
Loss of power – You may notice that your engine is struggling to perform. This can be due to too much coolant entering your engine, preventing it from running optimally. As well as reduced power, you may experience reduced fuel economy and stalling.
Coolant leaks – Damage to the thermostat can cause coolant to leak around the thermostat housing. Look around the thermostat and underneath your vehicle for leaks.
Coolant leak repairs in Hamilton
---
Car Engine Thermostat Replacement in Hamilton
Is your car engine in need of a new thermostat? If so, we can help! At Grimmer Motors, our team of skilled mechanics can examine your cooling system for problems such as a faulty thermostat. Once we know if the thermostat is the issue, we can remove it and replace it with a new one. This will allow for better engine performance or a reduced risk of engine damage via overheating.
For new car thermostat installation in Hamilton, contact Grimmer Motors today!
Phone: 07 855 2037
Email: office@grimmermotors.co.nz
Address: 998 Heaphy Terrace, Fairfield, Hamilton