Car Engine Services Hamilton
Is your car in need of an engine service? 
To keep up the maintenance and value of your engine, you should get a service done on your vehicle every 12 months. Keeping up to date with your services will ensure your car's health and it will maximise the vehicle's lifespan. 
Reasons to get your car regularly serviced
To ensure that your vehicle is safe to drive it is best to get your car regularly serviced. Services will pick up faults, for instance, issues with your brakes could potentially be dangerous and make the car unsafe to drive.
There is nothing worse than going on a road trip or driving to work and having your car breaking down. When getting a service, the technician will be able to find any underlying issues, which in result will save you from any unexpected roadside assistance and breakdowns.
Increase car performance
Regular services will keep your car performing at its best and running smoothly. Services ensure that your car's fluids, oils, and internal workings are up to standard. This will help your vehicle's engine be more responsive, drive smoother, and allow you to get the most out of your vehicle.
Services will keep your vehicle in top condition, this will maximize your vehicle's lifespan. Cars that aren't looked after won't last as long. Issues that go unseen can build up, and create bigger problems and put stress on the car.
Services are great for identifying and locating issues early before they become a bigger problem. Paying for a yearly service will save you money in the long run. Cars quite often have the domino effect, where if you leave one issue for too long it will domino and create more issues, or the existing issue will get much worse.
Increases the resale value
Having a track record of regular services adds value to your car when selling it. It will show the buyer that the car is reliable and is less likely to have underlying issues. The maintenance record indicates to the buyer that you have looked after the car and had any issues and repairs fixed when needed. At Grimmer Motors when you get any work done you will receive a Service and Repair History booklet. This booklet contains any work done at Grimmer Motors and is a great way to show buyers all your service history.
Services at Grimmer Motors
Services at Grimmer Motors will make sure your engine is in good condition by checking; oil and filter levels are correct, exhaust systems and mounts, engine and transmission mounts, the radiator, and an engine tune-up.
Premium Service 
At Grimmer Motors our Premium Service is our top-of-the-line service that includes everything your car will need to run smoothly and prevent from malfunctioning. The Premium Service is the best service for you if you're planning on keeping your car for longer than 12 months. Think of the Premium Service as an investment into the car, an investment into the safety and maintenance of your vehicle.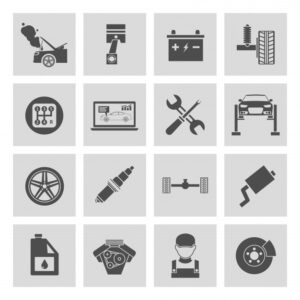 Standard Service 
At Grimmer Motors our Standard Service will cover most of your car servicing needs. The Standard Service is the service we recommend to customers that plan on selling their car within the next 12 months. This service can be our most popular service as it is the most regular service out of the three. However, if you plan on keeping your car for longer then going up to the Premium Service would be best.
Basic Service 
The Basic Service at Grimmer Motors is our most simple of services. This service covers the fluid and filter essentials but misses out on some crucial areas in maintaining your vehicle's condition. The Basic Service is only recommended if you plan on selling your car within the next 3 months. If you are planning on keeping your car for longer then it would be best to go for the Standard or Premium Service.
---
It is a huge inconvenience when your car breaks down, so be proactive and get a service to pick up small repairs before they are a huge issue. Services can seem expensive but paying that money annually will save you more money in the long run. 
Car Engine Services in Hamilton
To get your annual service or any other repairs contact Grimmer Motors today! Our experienced team of auto mechanics is ready to service and repair your car, whether it's petrol, diesel, or European car.
Phone: 07 855 2037
Address: 998 Heaphy Terrace, Fairfield, Hamilton