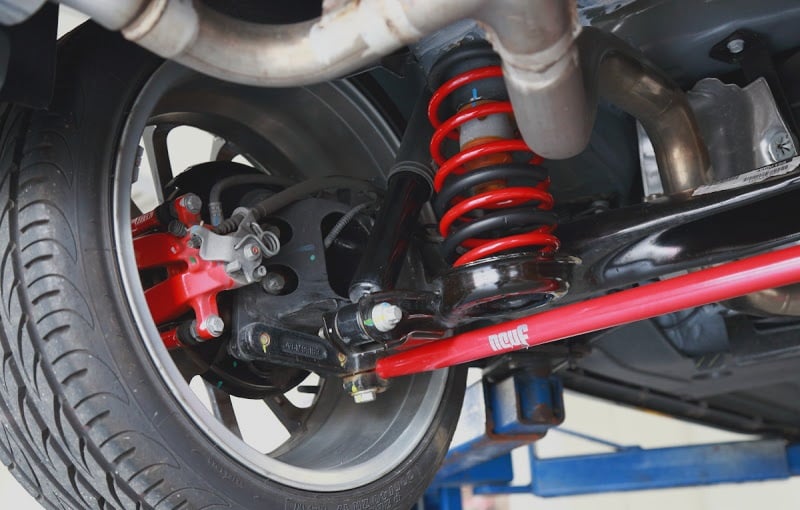 Car Coil Springs – Repair & Replacement
What do the coil springs do?
The coil springs (or suspension springs) are important suspension components in your vehicle. The springs work in conjunction with your vehicle's shock absorbers and struts, allowing your vehicle to absorb impacts. The coil springs also keep your vehicle balanced, stopping it from leaning to one side.
When you drive through uneven terrain, the coil springs will compress as your car goes over bumps. This prevents the car from bouncing up and down from impacts and affecting driver comfort.
Learn more about your car's suspension system >
What causes coil spring damage?
Since the coil spring is constantly expanding and retracting, it is prone to wear, especially under extreme conditions. Over time, the coil springs can wear, corrode and crack or lose its tension (sag). This can cause problems in your suspension system.
What are the symptoms of a failing coil spring?
Car leaning to one side – A failing coil spring can collapse under the vehicle's weight. This will cause the vehicle to lean to one side.
Increased bouncing – Your car may bounce more frequently, especially after going over speed bumps or potholes. This is due to your coil springs having less resistance to compression and your shock absorbers losing their dampening ability.
Car hitting the ground – The increased bouncing can cause the vehicle to hit the ground or the wheel to hit the wheel arch after driving over bumps. This can cause damage to the parts underneath your vehicle.
How important is a coil/suspension spring repair?
A damaged coil spring can cause damage to components underneath your vehicle. This is due to the car hitting the ground or wheel hitting your wheel arch after driving over bumps. This can cause expensive damage over time.
For this reason, we recommend that you get your coil springs serviced and repaired before they cause any more trouble.
Also, properly working coil springs and shock absorbers are a Warrant of Fitness (WOF) requirement, meaning you vehicle will fail a WOF if your coil springs or shocks are not working properly.
---
Coil/Suspension Spring Repair & Replacement in Hamilton
A functioning suspension keeps the parts under your vehicle safe. It also increases driving comfort, cornering ability and allows your car to recover from wheel related impacts (such as judder bars, pot holes) more effectively. At Grimmer Motors, we can provide reliable, long-last repairs for your vehicle's suspension system. This includes:
Coil springs
Shock absorbers
Steering components
Tie rods
Ball joints
Suspension bushes
Sway bar bushes
Our skilled, highly qualified mechanics are able to quickly diagnose issues in your car's suspension system, allowing for you to save time and money. When can then provide quality repairs if necessary. For coil spring repair in Hamilton, contact Grimmer Motors today!
Phone: 07 855 2037
Address: 998 Heaphy Terrace, Fairfield, Hamilton