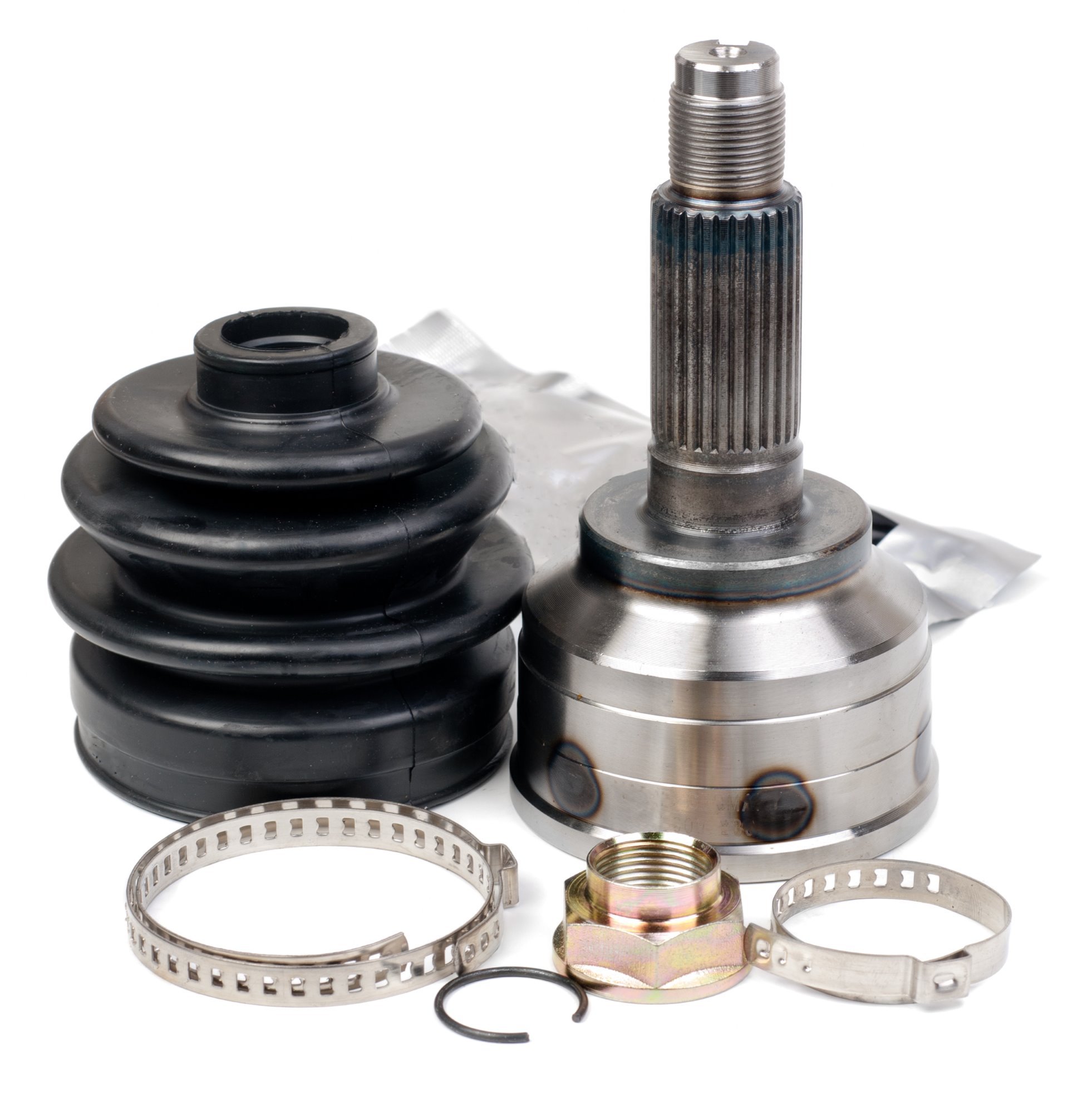 CV Joints – What do they do and when should they be replaced?
What is a CV joint?
On front-wheel drive vehicles, the axle shafts connect the wheels and the transmission. The axles flex, allowing the car's front wheels to turn left and right plus up and down. A Constant Velocity (or CV) joint allows the axle shafts to flex while simultaneously transmitting driving force from the engine to the wheels.
The CV joint is covered by a protective boot. The CV boot shields the joint from dirt, stones, dust and other contaminants that your car may attract while driving.
Do CV joints and boots need replacement?
Your CV joint acts as a direct link between your engine and wheels. Because of this, the joint will be subject to powerful forces. Over time, these forces will cause your CV joint to wear out. Once the joint wears out, it will need replacing.
The CV boot will need replacing if it cracks. This is because it will allow the CV Joint grease to come out of the joint. A split CV Joint boot also exposes key components of the joint such as the CV joint bearings and inner race, putting them at risk of damage by dirt, stones and dust wearing them out quickly.
Symptoms of CV joint / boot damage:
The most common sign of a worn CV joint or boot is an audible clicking noise when your vehicle performs turns. This clicking will generally increase in volume when you take sharp turns. This is caused by the joints becoming loose. This clicking noise will be heard on the side of your vehicle with a faulty CV joint.
A damaged CV joint may affect the balance of your vehicle. This will cause your car to vibrate while you are driving. Excessive vibrating can affect the handling of the vehicle, compromising your safety while driving.
Leaking of grease means that your CV boot needs repairing. As well as allowing the axles to flex, the CV joint stores grease. When there is a leak in your CV boot, dirt and sand can get inside, causing wearing and damage to joint components. If you notice grease on the inside of your tyres, you should get your vehicle inspected by a mechanic as soon as possible. This is because a leaky CV boot will lead to damage of other components, costing you more money.
We offer CV joint and boot repair/replacement in Hamilton.
At Grimmer Motors, we can inspect, repair and replace components of your axle shaft assembly. We have the correct tools and a range of methods to fit new CV Joints and Boots. We are happy to help with all CV joint and boot problems. For reliable, honest mechanical services, give us a call.
Phone: 07 855 2037
Email: office@grimmermotors.co.nz
Address: 998 Heaphy Terrace, Fairfield, Hamilton