Stress-free Car Battery replacement in Hamilton.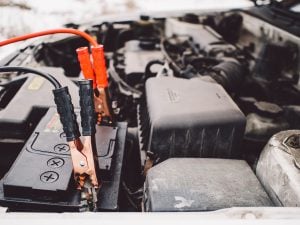 If your car constantly needs jump-starting, you may need to have your vehicle's battery replaced. Batteries allow for your stereo, lighting and air conditioning to function while the car is off. When a battery is faulty, these features can quickly drain its energy, causing your car not to start. A faulty car battery can lead to lots of unnecessary stress and result in your vehicle becoming unreliable to use.
Faulty car batteries are a common, easy to fix issue. Grimmer Motors offer high-quality battery replacement on all vehicles, regardless of their make and model. Our skilled team of mechanics can quickly replace your vehicle's battery with a brand new one, meaning you won't have to worry about your car going flat when you need it the most.
---
We use High-Quality Car Batteries.
At Grimmer Motors, we use Exide Endurance batteries. These batteries provide reliable, high-quality performance to keep your car running in all conditions. Additionally, these batteries have AP9 additive and calcium technology to maximise performance.
Free Warranty
When you get your battery changed through Grimmer Motors, you will receive a free warranty that will typically last between 18 and 30 months depending on your battery type. This means that if you encounter a manufacturer-related fault during the warranty period, your battery will be replaced, free of charge.
When you buy a battery through Grimmer Motors, you can request a free email or text message reminder to be sent to you near the end of your battery warranty period. This way, you can book your vehicle in for a battery check before the warranty period expire
Advanced Testing for your Car Battery.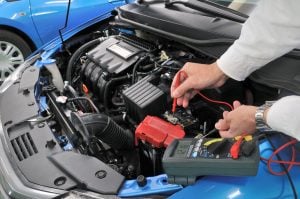 We use advanced electronic testing tools to see the status of your battery. This way, we can quickly determine if the car's battery is the source of the issue. If the battery is not the issue, we can use our advanced scanning tools to quickly diagnose the problem and suggest ways of fixing it.
Conveniently located in Fairfield, Grimmer Motors have been providing quality service to Hamilton since the company was established in 1934. When you receive battery-related services through Grimmer Motors, you can trust our fully qualified mechanics to safely and efficiently service your vehicle, advising you before further repair work is conducted.
---
We offer free recycling of car and household batteries. No purchase is required.
FIND OUT MORE
Live/work in any of the following areas? Grimmer Motors could be extra convenient for you.
Fairfield

Fairview Downs

Enderly

Claudelands

Hamilton East

Chedworth

Central Hamilton

Forest Lake, Beerescourt

Frankton

Melville

Waikato