Battery Recycling Hamilton
Free Battery Recycling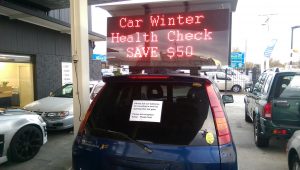 Bring your old batteries to Grimmer Motors to have them correctly recycled. We are currently accepting lithium batteries. For alkaline household alkaline batteries, please visit Waste Management on Wickham Street.
For each car battery you donate, a tree will be planted in Hamilton. All of the money we create through recycling these items will be donated to Trees for Survival, a charity that focuses on planting trees in New Zealand.
Located on Heaphy Terrace, we provide an easier, more central location for battery disposal.
How to Donate
Simply bring your old batteries to Grimmer Motors on Heaphy Terrace. Look out for our electronic sign. 
Inform one of our friendly staff that you wish to recycle a battery and we will open the car's boot for you. You can then place your batteries in the boot and we will take care of the rest.
Consider the environment, dispose of batteries correctly.