Car Battery Charging & Testing in Hamilton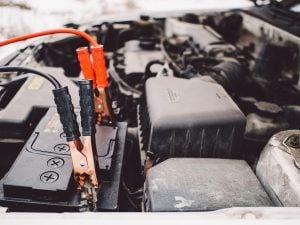 The battery provides your vehicle with the necessary energy to start the engine as well as operate the lights, air conditioning, and stereo when the vehicle is not running. It is important that your battery is correctly maintained as a malfunctioning car battery can lead to lots of problems.
Grimmer Motors offers battery testing and maintenance. This reduces the likelihood of your battery dying when you need it the most.
Battery Testing
Maintaining a car battery will improve its lifespan and reliability. When charged correctly, a battery should produce between 12.4 and 12.6 volts. At Grimmer Motors, we can electronically check the internal resistance, CCA rating, discharge current. state of charge and electrolyte levels of non sealed batteries. We can also remove corrosion from your battery terminals to make your battery run more effectively.
Battery Replacement
Car batteries have a limited lifespan and do need to be replaced eventually. In the event that your car battery is in need of replacement, we can remove and replace the battery for you.
In order to reduce our impact on the environment, we correctly recycle all old car batteries. We use the money we make from old/dead car battery recycling to fund the planting of native trees in the Waikato area.
You can learn more via our battery replacement page.
---
Car Battery Services in Hamilton
When you bring your vehicle to Grimmer Motors, you can be assured that we will provide your vehicle with the best services, maintenance, and repairs. For reliable car battery services in Hamilton, contact Grimmer Motors today!