Car Battery Charging & Testing in Hamilton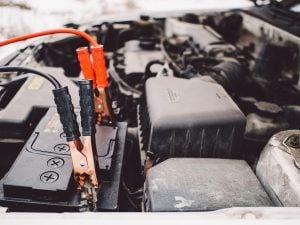 A car battery is one of the most important components of a vehicle, it is responsible for providing power to the starter and electrical systems. A dead battery can leave you stranded and unable to start your car. That's why it's important to have your battery tested regularly and replaced if necessary.
Car battery testing is a simple process that can be done quickly, it measures the battery's ability to hold a charge and to deliver the power needed to start the engine. Our team of experts will test your battery's voltage and cranking power, and check for any signs of damage or wear. If the battery is found to be weak or failing, it will be replaced with a new, high-quality battery.
A failing battery can cause a variety of problems, some of the common symptoms are:
Slow engine crank: A weak battery may not have enough power to turn the engine over quickly.
Car not starting: Eventually, a bad car battery will prevent the car from starting. It will not provide the ignition system with enough power to spark the engine and the car won't turn on. This can be very inconvenient and require you to call someone for a jump-start.
Warning lights on: A failing battery can cause the warning lights to turn on, indicating a problem with the electrical system.
Dim lights: A weak battery can cause the lights to dim or flicker. This is most noticeable when you first turn the keys or push the engine start/stop button.
Battery Testing
Maintaining a car battery will improve its lifespan and reliability. When charged correctly, a battery should produce between 12.4 and 12.6 volts. At Grimmer Motors, we can electronically check the internal resistance, CCA rating, discharge current. state of charge and electrolyte levels of non sealed batteries. We can also remove corrosion from your battery terminals to make your battery run more effectively.
Battery Replacement
Car batteries have a limited lifespan and do need to be replaced eventually. In the event that your car battery is in need of replacement, we can remove and replace the battery for you. Battery replacement is usually a quick, straightforward job. We source the correct battery for your vehicle, install it, and then test that the battery is running correctly.
In order to reduce our impact on the environment, we correctly recycle all old car batteries. We use the money we make from old/dead car battery recycling to fund the planting of native trees in the Waikato area.
You can learn more via our battery replacement page.
---
Car Battery Services in Hamilton
Regular battery testing and replacement is an important part of regular vehicle maintenance. It ensures that your vehicle's battery is in good working condition and can help to prevent being stranded with a dead battery. Don't wait for your battery to fail, bring your vehicle to Grimmer Motors and let our team of experts test and replace your battery, if necessary. Contact us today to schedule your battery testing and replacement service and give your vehicle the care and attention it deserves.
When you bring your vehicle to Grimmer Motors, you can be assured that we will provide your vehicle with the best services, maintenance, and repairs. For reliable car battery services in Hamilton, contact Grimmer Motors today!