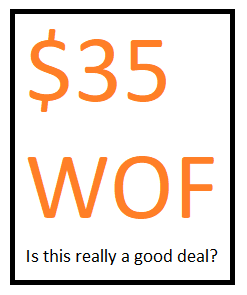 Cheap WOFs – How they can cost you more money
To keep your car legal, you will have to spend money on a Warrant of Fitness. But for most of us, there are many things we would much rather spend our hard earned money on.
Due to our desire to save money, we will often look for the cheapest possible WoF inspection. But are these 'cheap' tests really worth it? Find out below.
---
Mechanics LOSE money through WoF Inspections.
When you pay a low amount for a Warrant of Fitness, the company doing the inspection is losing a lot of money. For example if the workshops hourly rate is close to $100 (incl GST) and a WoF takes 45 mins on average, then the WoF costs the garage around $75 in actual labour charge opportunity. Depending on their values and ethics, they may consider methods of making this money back. These can include:
Failing your vehicle for the smallest of problems.
In order to profit off customers, a mechanic may fail your vehicle due to small, insignificant problems. This is so that they can charge you for the repair work and make the money back. Additionally, these mechanics may overexaggerate small issues in order to pressure the car's owner into spending more with the company. Suddenly, the $35 you spent on a WoF can turn into hundreds if dollars in unnecessary repair fees.
In order to avoid this problem, you should research the mechanics in your area. Look for workshops with high levels of customer satisfaction and use this to base your decision on, rather than the price a workshop offers. A cheap price may not always mean a bad service, but a one-star or two star review on Google will.
Rushing your inspection.
Mechanics may rush through your vehicle's WoF inspection in order to save time and money. This can mean that they can miss obvious problems or diagnose your vehicle incorrectly. A quality WoF inspection will take at least 45 minutes.
If problems aren't correctly diagnosed during a WoF inspection, they can cause more damage to your car in the future. This can cost the vehicle's owner more money.
For a more accurate result, bring your car to a garage that takes its time with WoF inspections to keep you and your family safe on the roads. .
The bottom line.
Cheap WoF inspectors aren't the only ones that use shady business tactics. Sometimes expensive companies will do this in order to maximise profits. Therefore, you should do your research before scheduling an appointment.
When you take your car for a WoF inspection, the price shouldn't be your concern. Instead, you should consider the companies values and reputation. Listen to other people for recommendations and use this information to make an informed decision.
Safe, Reliable and Trusted WoF's in Hamilton
At Grimmer Motors we are Hamilton's longest serving garage. Our experienced, qualified and trusted mechanics can thoroughly check your vehicle over, to ensure it is safe to drive.
For reliable, safe, and trust worthy WoF's in Hamilton, contact us today!
CONTACT US
Phone: 07 855 2037
Email: office@grimmermotors.co.nz
Address: 998 Heaphy Terrace, Fairfield, Hamilton